ROMAN NUMERAL NUMBER ONE

Q: Is there anyone hotter than a Convoy-era Kris Kristofferson?

A: No.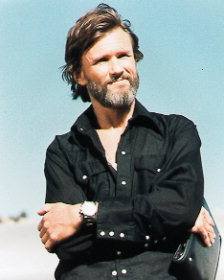 ROMAN NUMERAL NUMBER TWO

My friend Stephen and his brother Joel are competing in this batshit crazy contest sponsored by Delta.

It's down to the last two teams and they need your VOTES in order to win the grand prize of 1 MILLION FREQUENT FLYER MILES.

The final round of voting ends midnight Wednesday, which is TONIGHT.

You have to register (use BugMeNot) and watch both videos in order to vote. Kind of a drag, but the good thing is that you can minimize the screen and have it running while you're doing something else.


YOU GO HERE NOW!
If you've never met Stephen and Joel, they are two of the nicest people in the world.
Neither is as attractive as Kris Kristofferson, but they still deserve your vote.
ROMAN NUMBERAL NUMBER THREE
I've been having a shitty run.
In the past two weeks:
-work computer died and my hard drive was wiped
-scary subway incident
-stood up by boy
-got a 'step it up, kid' talk from my boss
It's looking up though. I just caught strep throat.