Did you know that October is National Pork Month?



YOU DO NOW.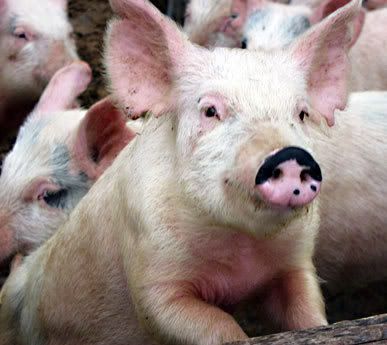 To celebrate, I'm helping YOU help your single best friends and bartenders get porked.
[[Keep in mind porked doesn't necessarily mean sexual activity. Porked could mean a trip to the petting zoo or sharing a cup of Sanka while reading Charlotte's Web. This is about meeting new people and dating. No one's out to embarrass anyone in front of anyone's mother.]]
HERE'S THE DEAL
Each day next week,
October 8th through 12th
, I'll feature an eligible bachelor or bachelorette on my
MySpace blog.
No identifying information will be made public
- just a first name, a photo, a few fun facts and a general location.
Single readers can respond to whomever strikes their fancy using the super cool special private email address I set up.
All couples that go on an actual date will featured in an upcoming column.
ZOMG! PRIZES!
Featured singles and the person who puts them up to it will recieve this durable, stylish bacon wallet.*
*Unfortunately, not edible. Don't think grandma didn't try...
HOW TO ENTER
Email erin@nerve.com
with the following information:
-Your first name
-Your friend's first name
-Your friend's photo (sorry, no nudie shots)
-A few fun facts about your friend, including their dating area, what team they swing for, and (of course) whether they're a best friend or a bartender
-Your friend's email address for verification purposes
DEADLINE
I'll be accepting entries until
8:00 p.m. Thursday the 11th.
Earlier entries will be given top consideration, so hurry your ass up.
QUESTIONS
Q:
Why best friends and bartenders?

A:
Read this week's
column.
Q:
Can I submit myself?
A:
Sure, why not.
Q:
Are you POSITIVE you're not going to give out my personal email/last name/address/dating profile/bust measurements, etc.?

A:
Yes. I pinky swear promise.
Q:
I still don't get it. Can I email you with questions?

A:
Sure. Same email as above: erin@nerve.com